Hilton Head Island Timeshare Resorts
Dreaming about an annual Hilton Head vacation? Resort Source Timeshare Resales features Hilton Head timeshares for sale at all the major island resorts

Hilton Head Golf Resorts
Beach Timeshares
Hilton Head Tennis Resort Timeshares
Sea Pines Resort
Palmetto Dunes Resort
Hilton Head Marriott Resort
Disney Hilton Head Resort
Hilton Head Timeshare Resort Listings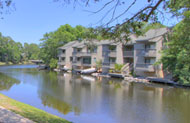 If you are looking for a Hilton Head vacation, whether annually or occasionally, it helps to know how to navigate the many Hilton Head timeshares and other vacation opportunities on the island. Hilton Head Island is known for its gated communities, referred to as "plantations" locally.

There are four mixed-use residential and resort plantations that are located at the tip and on the oceanfront side of the island: Sea Pines Plantation (the original) is on the island's southern tip; Shipyard Plantation; Palmetto Dunes Plantation and Port Royal Plantation are all on the Atlantic ocean side of the island.

Within the gates of Sea Pines and Palmetto Dunes plantations are commercial companies called Sea Pines Resort and Palmetto Dunes Resort, respectively. These vacation companies are owned by corporations and are marketed under these names, but should not to be confused with the all encompassing entity of the "plantation."

The following are the Hilton Head timeshare resorts, hotels and inns within the plantations. Below you will find a brief description of these. For more information or to view all available Hilton Head timeshares for sale, click on the plantation name in the links provided below.
Hilton Head Timeshares for Rent
Consider one of the many Hilton Head Island timeshare rentals available. Vacation villas, condos and homes are also located within the plantation and rented by one of the many island rental agencies. The remaining 36 Hilton Head timeshare resorts are located outside plantation gates in areas including Sand Shares and Sea Crest, and a Hilton Head Marriott resort, Marriott Grande Ocean in Forest Beach; Harbourside III, Marriott Harbour Point and Marriott Sunset Pointe in Shelter Cove; and Marriott Surf Watch near Palmetto Dunes resort among others.

View a complete list of timeshare resorts and descriptions here, or call 843-842-6336, ext. 4 or email us now and let Resort Source Timeshare Resales find the perfect Hilton Head timeshare for sale or rent for your Hilton Head vacation.